Festival Inaugural de Escritores en Town Hall Seattle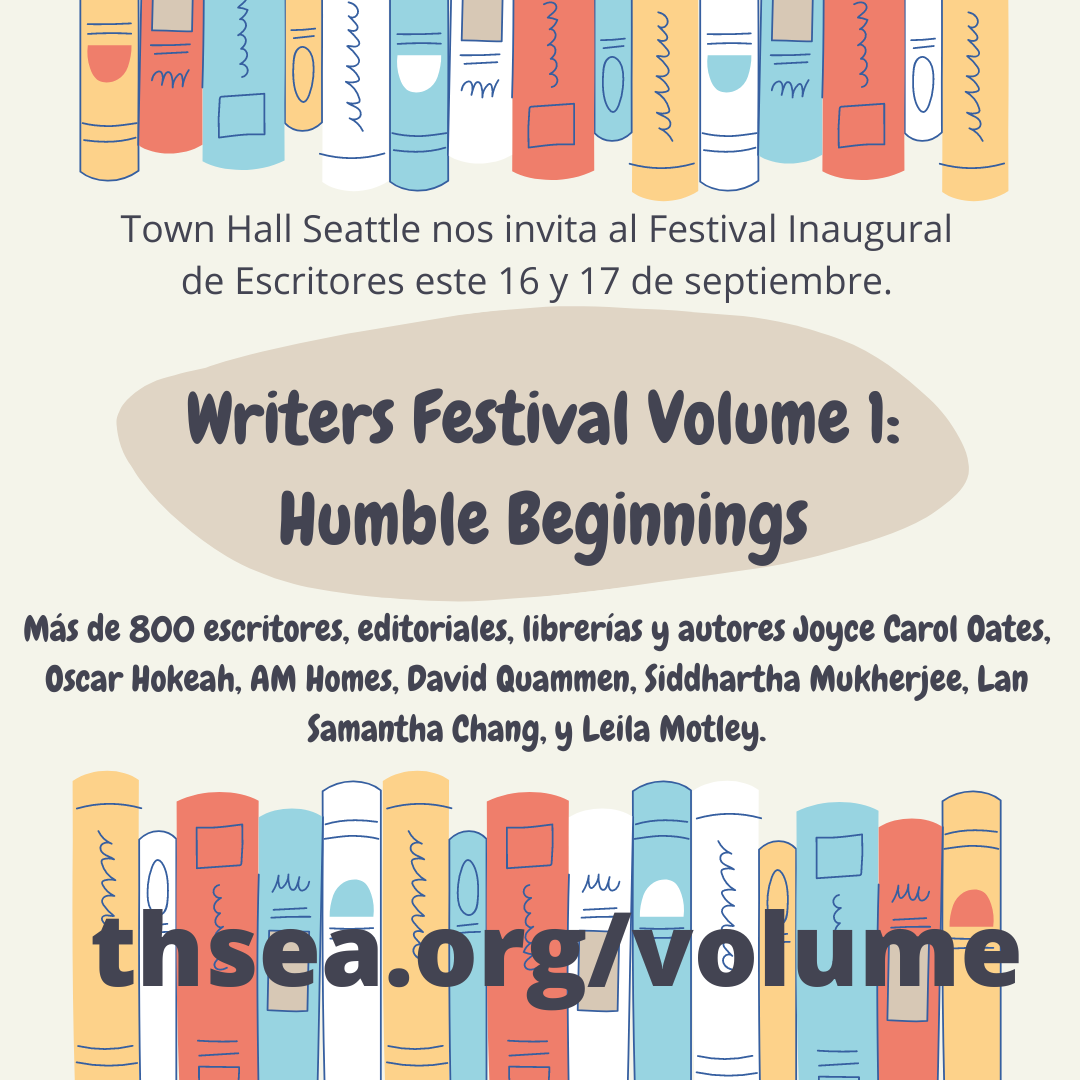 MAGNÍFICA OPORTUNIDAD PARA LOS ESCRITORES DE SEATTLE
ESCRIBE.

Town Hall nos ha invitado a participar en el Festival Inaugural de Escritores
que se llevará a cabo del 16 al 17 de septiembre en Town Hall en Seattle.
El evento convocará a más de 800 escritores, editoriales, librerías y
autores de renombre como Joyce Carol Oates, Oscar Hokeah, AM Homes,
David Quammen, Siddhartha Mukherjee, Lan Samantha Chang, y Leila
Motley. Más información sobre el evento debajo de este mensaje.

Contaremos con una mesa para distribuir información sobre Seattle Escribe y necesitamos miembros de Seattle Escribe voluntarios que atiendan la mesa por dos horas el Sábado 17 de Septiembre de 9 de la mañana a las 7 de la tarde. Las primeras personas que alcen la mano y se apunten a un turno recibirán dos boletos GRATIS de entrada a la conferencia el dia Sábado (un valor de $110 si compraran dos boletos).

Aquellas personas que estén interesadas por favor seleccionen el turno de
su preferencia y contacten eventos@seattleescribe.org. Los turnos y los
boletos serán asignados por orden de su solicitud.

Turnos disponibles:
9am – 11am
11am – 1pm
1pm – 3pm
3pm – 5pm
5pm – 7pm
INFORMACIÓN ADICIONAL SOBRE EL EVENTO:

TOWN HALL SEATTLE TO HOST ANNUAL WRITERS' FESTIVAL IN
SEPTEMBER
Seattle, WA — Town Hall Seattle announces the launch of its first
annual Writers Festival Volume 1: Humble Beginnings.
Celebrating Seattle's devotion to the written word, the exhilarating 2-day series runs
September 16-17, 2022, at Town Hall's historic building in First Hill. The
pandemic created space for many to read in solitude; but now it's time to
gather and celebrate our City of Literature with convening and
conversation.

From Seattle's independent bookstores and small presses to a visionary
library system, Town Hall's Writers Festival sets the stage to honor
Seattle's staggering wealth of literary experiences and become a mainstay
of the local literary calendar. The Writers Festival also serves as a
landmark event to kick off Town Hall's 2022-2023 season, which will also
see the departure of longtime Executive Director Wier Harman in
December of this year. After 17 years of service, we are sending him off
with a bold and brilliant event.

The inaugural event features in-person readings by an extraordinary roster
of fiction and non-fiction authors. We are excited to welcome:
Joyce Carol Oates, recipient of the National Humanities Medal, the National Book Award, and best-selling author of Blonde, presenting Babysitter — a novel about love and deceit, and lust and redemption, set against a backdrop of shocking murders in the affluent suburbs of Detroit.
A.M. Homes, Women's Prize For Fiction winner and an author of Jack, one of the 100 most banned books, presenting The Unfolding — a novel that unpacks a dangerous rift in American identity and reveals a portrait of a family and country in flux.
David Quammen, author of seventeen books and three-time winner of the National Magazine Award, presenting Breathless — the story of the worldwide scientific quest to decipher the coronavirus SARS- CoV-2, trace its source, and make possible the vaccines to fight the COVID-19 pandemic.
Siddhartha Mukherjee, Pulitzer Prize winner, #1 New York Times bestselling author, and one of the media's most trusted medical resources, presenting The Song of the Cell: An Exploration of Medicine and the New Human — a riveting new book about the miracle and promise of cellular medicine.
Lan Samantha Chang, recipient of multiple fellowships and author of several previous books, presenting her new novel, The Family Chao — the story of three brothers, a festering family drama, and the disquieting reality of the American dream.
Oscar Hokeah, winner of the Truman Capote Scholarship Award and the Native Writer Award through the Taos Summer Writers Conference, presenting his debut novel, Calling for a Blanket Dance — the multigenerational story of issues that often plague the Native American Community: financial instability, imprisonment, alcoholism, and the search for a familial identity.
The dynamic schedule of events includes book signings, presentations by local literary partners, and a keynote speaker, as well as Food Truck options in the newly-completed Plaza adjacent to Town Hall.
General and VIP tickets go on sale starting August 16, 2022. For more information about the events and activities at the Town HallWriters Festival, visit townhallseattle.org.